Mission Statement
Our Mission
The National Organization of Minority Architects (NOMA) Dallas/Ft. Worth chapter's mission is to champion diversity within the design professions by promoting the excellence, community engagement, and professional development of its members.
Our Vision
DFW NOMA seeks to cultivate and foster growth among minority architects, interns, and related disciplines within the Dallas – Ft. Worth Metroplex. The aspiration is that DFW NOMA will support diversity, inspire our youth, create networking opportunities, and advocate for minorities in the architecture, construction, and design community.
Our Membership
Membership in DFW NOMA is open to all qualified individuals irrespective of race, creed, gender or nationality.
President
Brien Graham, NOMA, AIA, NCARB
Brien Graham is a licensed architect, experienced project manager, and designer at LPA, Inc. He is an effective leader, providing oversight for decision making, problem-solving, and collaboration across multiple teams at all levels. In addition to his architectural background, Brien has served in facilities management, which has helped to inform his ability to keep the end-user in mind to ensure spaces are well designed and functional.
Besides his professional experience, Brien is also a past board member of the American Institute of Architects (AIA) Dallas Chapter, Habitat for Humanity International volunteer, Career Day speaker, and advocate for equity, diversity, and inclusion in the design industry. He is a current member of the AIA National Leadership Academy, with a passion for transformational leadership and providing young students early exposure to architecture.
Vice-President
Nixon Exantus, NOMA, AIA, NCARB
Nixon currently works for RS&H, Inc., a multi-disciplinary design firm with a diverse group of in-house consulting practices and his area of focus is Healthcare and Corporate Workplace design. A graduate of the University of Florida with a Bachelor of Design and Master of Architecture, he has 18 years of professional experience as a licensed architect in several states. He leads a growing team of talented and motivated architects and designers with diverse skills and backgrounds who are always seeking for innovative, cost-effective, and timeless design solutions for our clients. His responsibilities include managing clients/accounts, managing efforts between architectural designs, production, and engineering teams. This level of management and collaboration (internal & external) allow for increased quality of deliverables while keeping projects within established budgets and schedules. His role also includes business development, strategic planning, and forecasting.

Nixon currently serves on the Board of Legacy Cornerstone Foundation (LCF) where their mission is to help keep Black/Brown students enrolled in Colleges & Universities and cross the finish line by awarding scholarships to those in financial need. Their vision is to help narrow the gap of inequality and discrimination using education as the equalizer! He is also very engaged in his local community where he serves as Vice-Chair of the Zoning Board of Appeal (BOA) for the City of Irving, TX where he resides. The BOA's purpose is to hear and take appropriate action on appeals and special exceptions on variations to Development Code regulations to the city ordinance.

As an active member of DFW NOMA he plans to support and encourage more frequent and productive initiatives that keep the community engaged; Help promote chapter recognition and growth in DFW; Help promote membership as an opportunity for an open seat at the table and a hand that helps shape the course of the growing NOMA community through engagements, participation, service and volunteer initiatives as established by the chapter. He sees this membership as an opportunity to leverage our collective talents and diverse expertise to help empower each other and our community.
Past-President
Maurice Thames, NOMA, AIA, NCARB, MBA
Maurice is a registered architect with more than 21 years' experience across a broad range of public and private architecture projects. He works closely with project teams to plan and organize project designs to meet his client's budget, schedule, and design intent. Maurice is experienced in planning, design, construction documentation, and construction administration on a variety of project types. Maurice is passionate about projects that transform local communities and stimulate intrinsic value in its surrounding neighborhood. He is also actively involved in the local chapter of the National Organization of Minority Architects (NOMA) and serves as an ACE Mentor/ Volunteer.
Project experiences include K-12; senior housing; multi-family and affordable housing; libraries; aviation; mission critical facilities; and master planning and visioning type projects.
Maurice is a graduate of Drury University, where he received a Bachelor of Architecture, and Webster University, where he received a Master of Business Administration.
Treasurer
Kirk Dixon, NOMA, AAIA
Kirk Dixon Jr is a Dallas native with New Orleans roots. He obtained his Master of Architecture degree from the University of Texas at Arlington and has since been working on the path to licensure. Kirk is very passionate about opportunities for minorities in Architecture and other fields and wants to concentrate development efforts on the pipeline from school to licensure. He believes minorities bring a depth and richness to Architecture that needs to be explored in the coming decades. When not focused on architecture, Kirk works with Crowned Scholars Nonprofit Organization to help middle school young men develop healthy habits and improve math skills. He enjoys music, art, and binge-watching comedy series in his free time.
Secretary
Mia Ovcina, NOMA, RA, RID, LEED AP
Mia is an Architect and Project Leader at GFF with a passion for community-focused design. After graduating from Cornell University's College of Architecture, Art and Planning, she made her way back to Texas where she has worked on a variety of projects over the last ten years, from academic and institutional to multifamily and retail. Her passion for affordable housing and equitable design has been a constant thread through her education and career, from planning projects in post-Katrina New Orleans to library design and affordable housing in Texas.

Outside of work, Mia currently volunteers for ACE Mentors, the National Organization of Minority Architects, and Preservation Dallas' Young Professionals board. She was also a member of the 2013 AIA Dallas' Emerging Leaders Program class and has previously volunteered for the Dallas Architecture Forum and written for AIA Dallas' Columns magazine.
Membership Chair
Raine Jackson, AIA, NOMA, RID, NCARB
Raine Jackson is a licensed architect and registered interior designer at KAI, one of the largest African American owned architecture & engineering firms. She works with clients and consultants, working primarily on education and civic design and construction projects. Raine is currently participating in the AIA Dallas 2021 Emerging Leaders Program.
Programming and Planning Chair
Toluwalope Olayinka
Tolu was born and raised in Lagos, Nigeria. She came to the United States in 2010 to attend UT Arlington where she obtained her Bachelor and Master's degree. She currently works at OMNIPLAN. Tolu really enjoys team sports, and her favorite pastimes include soccer, music, and travel.
Communications/Public Relations Chair
Jasmine Martin
Jasmine Martin is a Dallas native and has 4 years of experience as an interior designer in the DFW Metroplex. She holds a Bachelor of Science, Interior Design degree from Stephen F. Austin State University. Jasmine has worked on a variety of projects – from designing schools, government centers, libraries to tenant development and corporate projects. Outside of work, Jasmine is driven by giving back to her local community, playing tennis, reading at local coffee shops and exploring Dallas with her friends and family.
Advocacy Chair
Jasmond Anderson
Jasmond is an accomplished, motivated, student-centered CEO of JASZ Studio, a Real Estate Development firm engaged in comprehensive master planning, community development, and real estate finance with a proven record of exceptional leadership. He is devoted to the marshaling of essential talent, resources, and facilities to meet the needs of an identifiable cohort of consumers for Dallas College. Jasmond is the Senior Director of Real Estate Planning and Development for Dallas College.
As a cutting-edge leader with a proven history of strong partnership and collaboration skills, commitment to student access and success, teambuilding, and results-focused leadership, Jasmond has a strong financial acumen and the ability to balance operational and financial requirements effectively.
He is a Southern Dallas resident familiar with the communities and urban context that makes our city rich and diverse. Moreover, Jasmond is a real estate development finance analyst, project manager, community member, and volunteer. He holds a Bachelor of Architecture (Prairie View A&M), Master of Architecture (U of Illinois at Chicago), and a Master of Sustainable Real Estate Development (Tulane).
Fundraising/Sponsorship
Keisha Richardson
Keisha Richardson is currently working for the United States Postal, as an Architect / Engineer. She manages the repairs and alterations of multiple postal facilities within the Southwest Region. There is an approximately 28 years of experience, counting high school, in construction management, design, engineering, safety and quality control.
Keisha previously worked with Turner Construction, as a Field Engineer, assisting with the construction of a number of Educational Buildings within the Dallas-Fort Worth Metropolis. Before working with the US Postal Service, she also worked several years with H.J. Russell & Company, as one of four General Contractors, in a joint venture, constructing the New Parkland Hospital in Dallas, Texas.
She graduated from Tuskegee University with both a Bachelor of Architecture, and a Bachelor of Science in Construction Science and Management. She also has her OSHA 30-Hour Certification and have completed and satisfied her IDP (Intern Development Program) qualifications to begin the ARE (Architect Registration Exams).
Outside of her workday, Keisha's community and professional services includes, Hearts and Hammers, Habitat for Humanity, Blankets and stuff for the Homeless, and more. She is currently in the process of forming a design, construction, and real estate investment firm. The intent of her upcoming company will be to provide second chance opportunity (for troubled young adults) and homeless survival efforts.
On a personal note, the four things Keisha will never intentionally stop doing is Dancing, Designing, trying to Sing and attempting to assist in the advancement of others and self.
Historian
Charyl McAfee-Duncan, NOMA, FAIA
Charyl McAfee-Duncan, FAIA is a licensed architect, and is the President of McAfee3 Architecture and Design and is Principal of the Dallas office. Since opening the Dallas office in 1994, Charyl has developed a diverse design and planning portfolio with clients in the public and private sector for higher education, institutional, transportation, aviation, sports and recreational facilities.
After pre-design studies at Kansas State University, Charyl graduated from the University of Nebraska at Lincoln with a Bachelor of Science in Architecture Studies and went on to achieve her Master of Architecture degree from the University of Texas at Austin. In 2013, Charyl, was recognized for her achievements as an architect, and her significant contribution to the profession and society by being elevated to the College of Fellows in the American Institute of Architects. Charyl is the first African American woman Fellow of the AIA in Dallas and the second in the State of Texas.
She is currently serving as the Historian for the Dallas Chapter of the National Organization of Minority Architects, where she served as President from 2014 to 2017 and won the Most Improved Chapter of the Year in 2017. Previously, she has served as the Advocacy Director and Membership Commissioner for AIA Dallas and served on the Multi-Cultural Conference planning committee held in September 2012 in Dallas. As a member of the Girl Scouts of Northeast Texas and she served on their Property Committee, Cookie Box Creations committee where she developed a creative and engaging program that introduces young girls to careers in architecture, which has continued since 2004. With the City of Dallas, she has served on the Historic Task Force for Park Row/South Dallas a Historic African American District and on several Artist Selection committees for various Public Art projects within the City of Dallas.
She enjoys speaking to students about architecture and recent engagements include Prairie View A&M School of Architecture, University of Texas at Arlington, Bridging the Gap: Women in Architecture, Dallas AIA What's Next: Women in Architecture panel discussion and You've got 5 Minutes Lady!, and Building a Dream: Art + Science, STEM Academy for DISD girls, sponsored by the Dallas Chapter of the LINKS, Inc. and Erickson Middle School. She also serves on the CityLab High School Advisory Board.
Project Pipeline Chair
Wenguel Yohannes, NOMA, RA
Wenguel Yohannes earned her BS Arch from the University of Texas at Arlington. She has over 12 years of experience working on projects varying from cultural centers to hospital med towers. She's an Associate Principal at Page focusing in the healthcare and higher education sector. She was attracted to the field of healthcare architecture as it allowed her to combine her creativity with her constant aspiration to leave a positive impact in the world. Outside of work, Wenguel is a co-chair of Take Action Now (TAN), a non-profit organization that helps disadvantaged primary school kids in Ethiopia. Locally, she mentors high school students with various organizations such as Young Women's Preparatory Network and City Lab High School.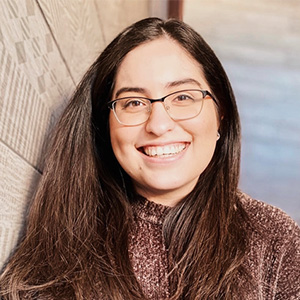 Student Member
Patricia Moriel
Patricia is a fourth-year architecture student at The University of Texas at Arlington. She was born and raised in Dallas, Texas. Her journey in pursuing a career in Architecture started during her sophomore year at Irma Rangel YWLS. She participated in the ACE Mentor program from 2015-2017. She was awarded a scholarship to attend the Fallingwater high school residency program during her participation in the ACE program the summer of 2017. She has interned for Hoefer Wysocki (2016) and Good, Fulton and Farrell (2019 & 2020). Currently she serves as the President of The University of Texas at Arlington's NOMAS chapter. She is working on her undergraduate thesis that is focused on sustainability and mobility in the downtown Arlington, Texas area. Patricia plans to pursue a master's in architecture and urban design.
DFW NOMA Chapter History
In 1989, Dallas area minorities interested in networking with other like architectural professionals began meeting over lunch. When the group grew large enough, they formalized into a National Organization of Minority Architects Chapter. DFW NOMA continues to grow and now includes Fort Worth and allied industry professionals.
Committees
Membership
The DFW NOMA Membership Committee is responsible for the development of programs to sustain and increase the membership of the chapter. This committee works under the leadership of the Membership Chair in concert with the Programming/Planning committee.


Programming and Planning
The Programming and Planning Committee is responsible for the development of future projects and activities of DFW NOMA. This committee screens proposed projects and undertakes long-range planning to establish and recommend priorities that align with the chapter's initiatives perceived to have potential impact on the profession and organizational goals.


Communications and Public Relations
The duties of the Communications and Public Relations Committee is to develop and administer marketing strategies and materials, administer the organization's website and social media, prepare public relations announcements to mass and print media, develop and administer community outreach and youth education programs, and administer the organization's academic scholarship program.


Advocacy
The Advocacy Committee is responsible tracks the local, state, and national current professional events; works with the Executive Committee to advise on necessary advocacy measures; advise and assist the local National Organization of Minority Architect Students (NOMAS) chapter's mass and printed media communication; and works with the Communications and Public Relations Committee to administer the organization's academic scholarship program.


Fundraising and Sponsorship
The Fundraising and Sponsorship Committee identifies sponsorship opportunities and works with the Membership, Programming and Planning, and Communications and Public Relations committees to manage and maintain the organization's fundraising goals.


Project Pipeline
The Project Pipeline Committee develops, organizes, and administers the annual Project Pipeline program which is a nationally recognize architectural summer camp program for middle-school and high-school students.
History and Purpose
. . Twelve African American architects from different parts of the country met, some for the first time, during the AIA National Convention in Detroit in 1971. What these professionals recognized was the desperate need for an organization dedicated to the development and advancement of minority architects.
. . Present at the creation were William Brown, Leroy Campbell, Wendell Campbell, John S. Chase, D. Dodd, Kenneth B. Groggs, Nelson Harris, Jeh Johnson, E.H. McDowell, Robert J. Nash, Harold Williams, and Robert Wilson. These African American architects wanted minority design professionals to work together to fight discriminatory policies that limit or bar minority architects from participating in design and constructions programs.
. . That was the beginning of the National Organization of Minority Architects, an increasing influential voice, promoting the quality and excellence of minority design professionals. There are NOMA Chapters in all parts of the country, increasing recognition on colleges and university campuses and providing greater access to government policy makers.
About NOMA
NOMA, which thrives only when voluntary members contribute their time and resources, has as its mission the building of a strong national organization, strong chapters and strong members for the purpose of minimizing the effect of racism in our profession.
Strength in NOMA is built through unity in the cause that created the organization. Our impact is felt when our organization wrestles with the dilemmas that face this nation, particularly as they affect our profession. There is strength in numbers. By increasing the number of people in this organization, we add strength to the voice with which we can speak against apathy, bigotry, intolerance and ignorance; against abuse of the natural environment; and for the un-empowered, the marginalized and the disenfranchised.
By building a strong organization, we develop a showcase for the excellence and creativity which have been ignored for so long. Through our publications and conferences, we are able to inform the world that minority professionals have the talent and capabilities to perform in design and construction with any other group.
By building strong chapters of design professionals whose sensibilities and interests include promotion of urban communities, we are able to respond to the concerns that affect marginalized communities and people. Our goals are to increase the level of participation in the social, political and economic benefits afforded the citizens of this nation and to tear down the barriers that make full participation unattainable. Chapters give members a base from which to be involved in politics, to visit schools and reach out to children, to conduct community and civic forums and to responsibly practice in our professional capacities.
Aims and Objectives
The National Organization of Minority Architects has been organized to:
. . Foster communications and fellowship among minority architects;
. . Form a federation of existing and proposed local minority architectural groups;
. . Fight Discrimination and other selection policies being used by public and private sector clients to unfairly restrict minority architects' participation in design and construction;
. . Act as a clearing house for information and maintain a roster on practitioners;
. . Promote the design and development of living, working, and recreational environments of the highest quality;
. . Create and maintain relationships with other professionals and technicians whose work affects the physical and social environment;
. . Encourage the establishment of coalitions of member firms and individuals to form associate and joint venture relationships;
. . Speak with a common voice on public policy;
. . Work with local, state, and national governments on issues affecting the physical development of neighborhoods and communities;
. . Be an effective source of motivation and inspiration for minority youth.